Donation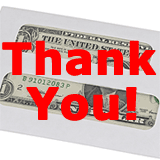 You will find the printable donation form below, following...
A Message from Wende Nachman, Oil Group Director
Dear Oil Group Members,
Oil Group members save an average of $200 per year. This is quite an accomplishment considering oil prices are constantly on the rise. It is our team work that continues to secure us the lowest possible prices from our full service companies, and now we need your help again.
The Oil Group is working hard on legislation to combat the high cost of oil. If you would like to help us in the fight against extreme heating oil prices, please show your support by making a donation to the Oil Group
Sincerely,
Wende Nachman, Oil Group Director
Donations
You can make a donations, in any amount, to the NJCA Oil Group in several ways:
Donate online using the Donation Form below (secure for Visa and MasterCard payments).


Donate by postal mail by printing out and completing the Donation Form, then mailing it with your check or money order - made payable to NJCA - to:

NJCA Oil Group Donation Form
1040 Kings Highway, Suite 308
Cherry Hill, NJ 08034


Donate by phone by calling 1-800-464-8465 and speaking to a member of the NJCAOG staff.


Donate by fax by completing the below Donation Form and faxing to 856-414-1054.
However you choose to make your donation, thank you!