Bio-Fuel
Be Part of the Solution!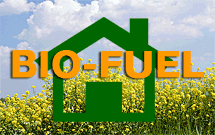 New Jersey Citizen Action Oil Group is proud to announce that we now have a bio-fuel supplier who serves Essex, Hudson, Morris, Passaic, Union, and parts of Bergen, Middlesex, Somerset, Sussex counties!
This exciting new addition to our team is a greener alternative to standard heating oil and provides the same full service and discounted prices that our members enjoy. If you live in one of the counties mentioned and would like to take advantage of this unique opportunity, please indicate that preference on your Oil Group application.
Biodiesel is created by mixing petroleum diesel and natural agricultural products such as soybean and sunflower oil. Bio-fuel is a mixture of biodiesel and standard heating oil. Commonly described as B5, bio-fuel is currently made up of 5% biodiesel and 95% standard heating oil. Higher ratios of biodiesel (B20) are currently being tested for safe use in heating systems.
US plants currently have the ability to produce 2.2 billion gallons of biodiesel per year, but only produced 250 million gallons in 2007. New Jersey is ranked 9th in biodiesel production capacity, with more plants on the horizon.
Unfortunately, the state of New Jersey has not yet required our refineries to upgrade their equipment to blend, store and sell this greener fuel. The Oil Group believes that a more eco-friendly fuel is imperative to our future and we are involved in the fight to make it accessible to our members.
Advantages of Using Bio-Fuel
Bio-fuel can be burned in your current heating system without any modification.
Bio-fuel can make your heating system run longer and more efficiently.
Bio-fuel is less hazardous to your health.
Bio-fuel produces 3 times more energy than other fuels. The use of bio-fuel reduces your energy footprint and lowers the effects of global warming.
Bio-fuel is made in the USA. Since you are buying an American product, your money will stay in our economy.
Bio-fuel = more jobs in the farming, manufacturing, refining and transporting industries.
Bio-fuel reduces our dependency on foreign oil.
Bio-fuel improves the balance of U.S. trade.
(Caution: Burning other forms of biodiesel could potentially damage your heating system.)

Recently, Underwriters Laboratory (UL) declared that biodiesel blends up to B5 used in equipment designed to operate on diesel fuel and heating oil posed no adverse safety issues. This announcement is a milestone for an industry that hasn't had much advancement in the heating oil fuel supply for decades. Bio-fuel can begin now to make inroads into the heating oil supply and OEM's, fuel suppliers and homeowners can be comfortable that they are recipients of a high quality fuel.
Much has been stated about biodiesel's possible contribution to additional fuel quality challenges such as fuel instability, premature tank cleaning and microbial contamination. Clearly these types of operational challenges are those that the industry is now familiar with and will continue to work through, before during and after bio-fuel's wide spread commercialization. The net result of this new fuel combined with proactive fuel management practices, ensures a positive user experience.
Complementing this exciting news from UL is that biodiesel boasts a positive energy balance delivering 3.5 units of energy for every 1 unit of energy of input, while other fuels and generic petroleum fall shy by comparison. U.S. biodiesel manufacturers are now producing a sustainable fuel that is good for the environment and there is significant, credible research bearing this out, see biodieselsustainability.com.
If the UL approval, biodiesel's positive energy balance and sustainability affirmation are not enough, consider the positive results declared in a report generated by ICF International, titled Resource Analysis of Energy Use and GHG Emissions from Residential Boilers for Space Heating and Hot Water.
As you will see, the difference between heating oil and natural gas for greenhouse gases is not substantial and that the modest advantage gas has can be overcome with a percentage of biofuels.
More information specific to bio-fuel.